Newest article from ESPN about NCAA Division I Women's Volleyball - Please do take a moment and email the author to let her know we appreciate her articles on our sport!!!
The link -
http://espn.go.com/espnw/college-sports/8624396/ncaa-women-volleyball-longhorns-pair-keeps-texas-track-weekly-power-rankings
Longhorns pair keeps Texas on track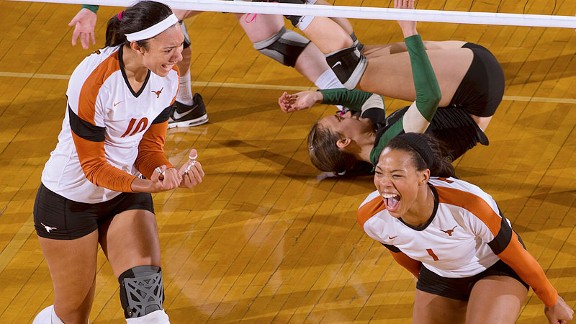 Courtesy of UT AthleticsSophomores Haley Eckerman, left, and Khat Bell have led Texas to a 21-3 record.
A year ago, the trip home from Lawrence, Kan., wasn't so good for then-freshman Khat Bell of Texas. The Longhorns had beaten the Jayhawks on Nov. 5, 2011, but she'd torn her ACL during the match.
Bell worked hard at rehab to be ready for this season. And now she's pretty much back at full strength, one of two sophomore standouts who have been so important to the Longhorns.
"I had to miss out last year after getting hurt," Bell said Saturday. "My team has helped me a lot mentally coming back this year."
After a hard-fought five-set victory at Kansas on Saturday, Texas is 21-3 overall and 13-0 in Big 12 play. The Longhorns are ranked third in the American Volleyball Coaches Association poll and are making a strong case for a great seed in the NCAA tournament, which starts later this month. Texas will be a host school for one of the four regionals.
Bell, a 6-foot-1 blocker/hitter from Mesquite, Texas, and fellow second-year player Haley Eckerman were keys to the win over Kansas, which had not lost at home this season until Saturday.
Eckerman, a candidate for national player of the year, leads Texas with 378 kills. The 6-3 hitter from Waterloo, Iowa, had 16 kills against the Jayhawks. Meanwhile, Bell had 14 kills Saturday and has 147 this season, third-best on the team. Bell leads the Longhorns with 105 blocks, 12 of them solos.
Texas' other big weapons are junior Bailey Webster, who had 17 kills in beating Kansas and 291 this season, and senior Sha'Dare McNeal, whose 141 kills are fourth on the team.
Directing the show is junior Hannah Allison, who has been the setter the majority of the time since the Longhorns' last loss, a 3-2 defeat at home against Illinois on Sept. 14. Texas had been using a 6-2 system (where two setters rotate in and out) to that point, but coach Jerritt Elliott opted to focus on the 5-1 setup after that (one primary setter).
"What has clicked better is that Hannah is able to trust all the hitters more; she doesn't have to rely on Bailey and me as much," Eckerman said. "Our offense is more spread out and really challenges the defense."
Meanwhile, Kansas coach Ray Bechard was hoping for a "great" week for his Jayhawks, but instead got a "good" one, as they beat rival Kansas State, but lost the five-setter at home to Texas for the second consecutive year.
Kansas is No. 22 in the AVCA poll and still hopes for a second-place Big 12 finish. The Jayhawks are 9-4 in the league, while Iowa State is 9-3. The No. 19 Cyclones still must face ranked teams in No. 20 Kansas State (Wednesday at 6 p.m. ET on ESPNU) and Texas (Nov. 24). Kansas doesn't have any currently ranked foes among its remaining four matches.

1. Stanford (24-2)
There was no slowing down the top-ranked Cardinal last week, with victories over Washington State and Washington. Freshman Jordan Burgess, who'd missed two matches with an ankle injury, was back for the 3-1 win over the Huskies, and Brittany Howard was named both Pac-12 defensive player and freshman of the week. Stanford is 16-0 in the Pac-12, but this week travels to face USC and UCLA.

2. Penn State (25-2)
Last week, the Nittany Lions had two dominant performances at home, sweeping Illinois and Northwestern. At 15-1 with four Big Ten matches left, they appear to have the league title wrapped up. Penn State travels to Indiana and Purdue this week.

3. Texas (21-3)
The Longhorns got down 2-1 at Kansas, but that's when, "We knew we had to do something," Eckerman said. Texas has the firepower to rally, and the Horns won the last two sets 25-16 and 15-12. Texas closes out the regular season against Texas Tech and West Virginia this week, then Iowa State on Nov. 24.

4. Hawaii (22-2)
It's been a time to fine-tune and rest up for Hawaii, which easily swept a nonconference matchup with BYU-Hawaii last week. The Rainbow Wahine's final road trip of the Big West season is this weekend to Pacific and UC Davis. Overall, Hawaii has four matches left to try to close out a perfect season in league play.

5. Oregon (22-3)
After a disappointing previous weekend at home in which the Ducks were upset by Cal and didn't challenge Stanford, Oregon rallied this past weekend with wins over Arizona State and Arizona. After a combined 35 kills in those matches, sophomore Liz Brenner -- who also played for the Oregon women's hoops team last season -- was named Pac-12 offensive player of the week. At 13-3, the Ducks are in second place in the Pac-12 but have a big matchup Friday at Washington.

6. UCLA (20-5)
Last week, the Bruins swept Colorado but had to fight for a 3-2 win at Utah. The defending national champions will play their last match at the Wooden Center this season Thursday, when they host Cal. Then they'll move to the new Pauley Pavilion for a showdown with No. 1 Stanford on Friday. UCLA has dominated its series with Cal (55-6), but trails Stanford 43-38 in their longtime rivalry.

7. USC (24-4)
With victories at Colorado and Utah last week, the Trojans moved to 12-4 in the Pac-12 and remain tied with UCLA for third place. Thursday, USC hosts Stanford. The Cardinal won their previous matchup with the Trojans 3-0 on Oct. 10 at Stanford. USC is 8-1 since then. Can the Trojans hand Stanford its first Pac-12 loss this season? Friday, USC meets Cal.

8. Washington (20-5)
For the first time since 2006, the Huskies got a season sweep over Cal, beating the Bears 3-2 last week in Berkeley. But Washington's trip to the Bay Area didn't produce an upset, as the Huskies then fell 3-1 to Stanford. Oregon and Oregon State visit Seattle this weekend. At 11-5, Washington is fifth in the Pac-12 standings.

9. Nebraska (20-5)
After difficult losses at Michigan and Michigan State, it was good for the Huskers to be home last week. They defeated Indiana 3-1, then won a well-played 3-2 battle over Purdue. Hayley Thramer and Meghan Haggerty were Big Ten defensive player and freshman of the week, respectively. Senior Hannah Werth, back from an ankle injury, had 18 kills and 13 digs against Purdue.

10. Louisville (25-3)
The Final Four host school closed out the Big East regular season with sweeps of Marquette and Cincinnati last week. At 14-1 in league play, the Cardinals won the regular-season title, with their only Big East loss coming to Notre Dame on Sept. 23. Top-seeded Louisville faces St. John's to open the Big East tournament Friday in Milwaukee. The final will be at 2 p.m. ET Sunday on ESPNU.
Digs
• Just like Nebraska had the week before, Minnesota found its trip to Michigan to be very difficult. The Gophers lost to both Michigan State and Michigan, which dropped them to 20-7 overall and out of the AVCA top 10. They are ranked No. 14 this week and host Nebraska and Iowa on Friday and Saturday.
• Dayton, 23-4, remained at No. 12 in the AVCA poll after beating Xavier to finish with a 14-0 record in the Atlantic 10 regular season. The A-10 tournament is Friday through Sunday in Pittsburgh.
• Kudos to Creighton, which is No. 23 in the poll this week and has clinched at least a share of the program's first Missouri Valley Conference title. The Bluejays, 24-3 overall and 15-1 in the MVC, close out the regular season at Wichita State and Missouri State this weekend. The following weekend is the MVC tournament, which is hosted by Missouri State. Perennial MVC power Northern Iowa is second in the league at 14-3.