In my non-stop efforts to be Mr. Everything for college volleyball....well, that would really be richkern.com....but, back to me, in my non-stop efforts, etc., etc., etc., I bring to your attention an article on one of the 8 ESPN websites.
Exposure is good and it is nice to see a weekly article on the Division I version of women's college volleyball.
The actual link is below the cut and paste; just thought I would save you one click out of your busy day!
No. 1 Nittany Lions hang on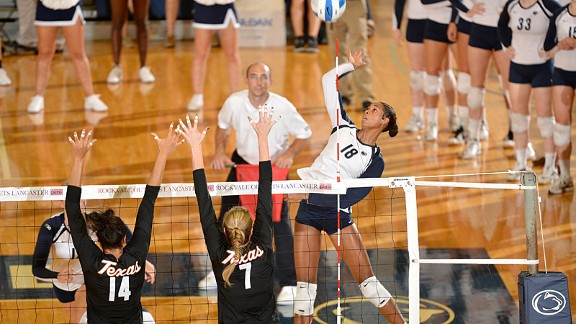 Penn State Media RelationsJunior Deja McClendon is key to Penn State's success this season.
Volleyball fans have had Oct. 28 circled for a while. That's when No. 1 Penn State travels to No. 4 Nebraska. But the Nittany Lions almost got an unpleasant surprise before facing the Huskers, as Penn State had to go to five sets to avoid an upset this past Saturday at Michigan.
The Nittany Lions had been cruising along in the Big Ten since their first meeting with the Huskers, a 3-1 victory at Penn State on Sept. 19. They'd won five of their subsequent eight matches in sweeps, won two others 3-1 and had one go the distance: a 3-2 victory at Illinois on Oct. 6.
One of those sweeps was at Ohio State last Wednesday. Then came Michigan, which is in the middle of the pack in the Big Ten. But in a conference this tough, that means the Wolverines are still a pretty good team. They showed that, pushing the Nittany Lions to five sets after losing the first two: 25-19, 25-18, 21-25, 22-25, 15-10.
It dropped Michigan to 4-6 in the league, while Penn State stayed perfect at 10-0. The Nittany Lions play at Iowa on Wednesday. The Hawkeyes are tied at the bottom of the Big Ten with Indiana at 2-8, so if Penn State has much trouble in Iowa City, it will be quite unexpected.
Sunday at 3 p.m. ET, though, will be the rematch of the titans. The Huskers are in second place in the Big Ten at 9-1.

1. Penn State (20-1)
The Nittany Lions probably would just as soon not have been pushed so hard by Michigan, but it did give junior star Deja McClendon a longer opportunity to show her athletic versatility. She had a career-high 29 digs, along with 16 kills. Ariel Scott had 19 kills for Penn State. On Monday, Micha Hancock was named Big Ten setter of the week for the fourth time this season.

2. Stanford (18-2)
The Cardinal did it the hard way, winning 3-2 at both Washington and Washington State. The matchup with the Huskies was expected to be a battle; the Cardinal handed them their first loss at home this season. But Washington State is at the bottom of the Pac-12, winless in league play. Still, the Cougars won the third and fourth sets before Stanford closed out the match 15-10. Stanford's Carly Wopat was named Pac-12 offensive player of the week after recording a combined 31 kills in the two matches.

3. Oregon (18-1)
It was a productive trip to the desert for the Ducks, who swept both Arizona and Arizona State last week. Oregon will be on the road again this weekend, facing Colorado and Utah. Then the Ducks have four consecutive matches at home, including against Stanford on Nov. 4.

4. Nebraska (17-2)
The Huskers' sweep at Iowa last Wednesday was expected, but the sweep at Illinois on Sunday was impressive. This isn't the same Illini team that made the NCAA final last season, but Illinois is still talented and has a strong home-court advantage. However, the Huskers hit, blocked and dug at a high level, and pretty much dominated. Nebraska hosts Ohio State on Friday before Sunday's showdown against Penn State.

5. Texas (16-3)
Iowa State became the first Big 12 team to take a set off Texas; in fact, the Cyclones took the first two last Wednesday in Austin. But the Longhorns rallied to win 3-2, moving Texas to 8-0 in the league. The Horns are 19-0 against Iowa State; they face Baylor and Oklahoma this week.

6. Washington (17-2)
The Huskies had their chances to give Stanford its first Pac-12 loss, but after getting to the fifth set, Washington fizzled with too many errors and lost 15-7. It was an odd match, considering that the two sets the Huskies won -- the first and third -- they did so very dominantly, 25-10. Still, they rallied from that disappointment against the Cardinal to sweep Cal. This weekend they are on the road against the L.A. schools.

7. UCLA (15-4)
Last week was a comparatively easy one for the Bruins, with sweeps of Utah and Colorado. This weekend, the Washington schools are in Los Angeles. The Huskies-Bruins matchup is Sunday at 3 p.m. ET. The teams split last season, each winning in a sweep on its home court.

8. USC (19-3)
Samantha Bricio keeps piling up Pac-12 freshman of the week honors; she got her fourth Monday. Bricio had 11 service aces combined in sweeps over Utah and Colorado last week. Washington and Washington State visit the Galen Center this Friday and Saturday.

9. Florida (17-2)
The Gators are still undefeated in SEC play, having moved to 11-0 after a sweep at Alabama and a 3-2 comeback at Texas A&M. On Wednesday, they go outside the SEC for their in-state rivalry with Florida State (6 p.m. ET, ESPN3). The Gators lead the series 35-16 and haven't lost to the Seminoles since 1994.

10. Hawaii (17-2)
The Rainbow Wahine are still unbeaten in the Big West, but it took a rally from down 2-0 to Pacific on Saturday to stay that way. Hawaii closed out that match 15-11 in the fifth set. Emily Hartong had 20 kills, nine digs and five blocks to help conquer the visiting Tigers. Hawaii is back on the mainland this weekend, at Long Beach State and UC Irvine.
Digs
• Volleyball's version of the Red River Rivalry -- Oklahoma versus Texas -- will be on ESPNU at 3 p.m. ET Sunday, live from Norman, Okla. Unfortunately for the Sooners, it's not been much of a rivalry in this sport. Texas leads the series 39-3, including a 3-0 victory Sept. 22 in Austin, Texas.
• We wondered last week whether San Diego might suffer its first West Coast Conference loss Saturday at Saint Mary's ... and that's what happened. The Toreros lost 3-2 but are still atop the league at 9-1. Four WCC teams -- No. 14 San Diego, No. 18 BYU, No. 23 Pepperdine and No. 25 Saint Mary's -- are ranked in the AVCA poll this week. San Diego will face BYU on ESPNU on Halloween at 10 p.m. ET.
• The Big East is the host conference this year of the volleyball Final Four, which will be held in Louisville, Ky. The Cardinals are currently atop the league at 9-1, with Marquette and Notre Dame tied for second at 8-1.
http://espn.go.com/espnw/college-sports/8543074/ncaa-women-volleyball-no-1-penn-state-nittany-lions-hang-weekly-power-rankings